Leadership Team:
Our leadership team recognizes the authority of God, and realizes that we are shepherds who serve under the Chief Shepherd, Jesus Christ. We desire to devote ourselves to prayer and to the ministry of the Word. Our passion and goal is to equip the believers for the work of the ministry until we all attain maturity in the fullness of Christ.
Pastor Danny and Jenny Smartt, Senior Founding Pastors
Pastors Danny and Jenny have been in the ministry for over 50 years. They are graduates of Rhema Bible Training Center, and have served as instructors for Life Christian University. As founding pastors, they have built Lake Area Bible Church with the mandate to provide a place where people can worship God freely and experience the power of God through understanding His word, and developing relationship with Him. Pastor Danny and Jenny have a heart for missions. They have been involved in many Mission outreaches around the globe. They have trained many so that they too can share Jesus and further the Kingdom of God. They live by the words freely we have received, freely we give.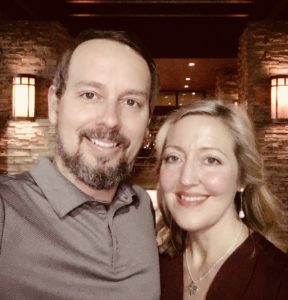 Pastor Chris and Amy Whalen, Associate Pastors, Youth Pastors
Pastor Chris and Amy are Rhema Bible Training Center and Life Christian University Graduates. They have been serving at Lake Area Bible Church for over 20 years. Pastor Chris and Amy serve as Youth pastors, Worship Leaders, and Associate Pastors. They are passionate about equipping the body of Christ and being a supply to wherever the need may rise in the church.
Opportunities to Serve…
Our church operates as a healthy family should. We all do our part to make sure the needs of the family are met. We encourage our congregation to find a place to hook up and serve. Please fill out a volunteer form if you can serve in any area below.
Children's / Nursury Workers
The childrens church and nursury worker volunteers at our church fill an important role. They are involved in the training and care of our future generation! There are many ways to get involved such as: teaching a class Sunday morning, assisting a teacher, and taking care of the babies in the Nursury.
Ushers/ Greeters
Our church greeters help welcome our members/visitors to church every service. They also fold bulletins once a month, and pass out visitors packets. The ushers are involved in directing attendees to their seats, ensuring the safety of the building during services, providing direction, unlocking doors, locking doors, helping with prayer lines, and generally ensuring that the service can proceed problem-free. The usher/greeter team is a servant-hearted group of men and women whose ministry is integral to church life.
Church Cleaners
The church cleaners have the task of keeping the house of God beautiful and pleasantly presentable. We are in need of volunteers that clean the church once a month. We have teams that clean before Wednesday night service, and those that clean before Sunday mornings service.
Creative Arts
God is the divine creator of the universe and we love to worship and honor Him through using our gifts He has given us for His glory. Some of the ways we worship Him through our creativity is with our music – our praise and worship team meets weekly to learn songs for servce. Our dance – our flag team (Bound to Soar) led my Misty Neeld, is involved in special services in our church and community. Our LABC drama team performs Christmas plays every year. It's exciting to see God move through these outlets, and we desire to train people to flow in the creative gifts.
Special Events
One of our special events we hold is our church wide lunch in Destiny Cafe. There are teams that help set/up, clean/up, decorate and serve food. Every year we have a Fall Festival – Candy Crush Night. This is a big outreach to our community, and requires alot of volunteers to put on.